Inauguration of the Ghana Chapter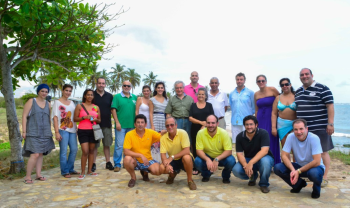 As the Ghanaian proverb "Obi do wo a na oba wo fi" goes, a person keeps the company of the one they love.
It was LAU's love for its alumni that took it to Ghana this week, where it formally inaugurated the university's first ever alumni chapter in Africa.
"Our alumni matter to us because although they have graduated, they are still a part of LAU's close-knit family," said LAU President Dr. Joseph G. Jabbra upon his return from Accra. "We make an effort to keep in touch and to ensure that the university responds to their needs."
Famed for its cocoa beans, gold and beautiful beaches, Ghana is home to a significant number of Lebanese expatriates. According to some estimates, Lebanese business counts for up to 40 percent of the Ghanaian economy. It was thus a natural step for LAU to open its first African chapter there, said Executive Director of Alumni Relations Abdallah Al Khal.
The chapter was the culmination of two years' work, with LAU alumni Kassem Odaymat, Lana Captan Ghandour and Ahmad Farroukh playing "instrumental roles," Khal noted. "Their passion and dedication to reaching out to the LAU community and establishing the Ghana chapter was phenomenal. I can only imagine how active they will be once they are a fully-fledged chapter."
Jabbra likewise paid tribute to the efforts of alumni in Ghana. "They reflect the very spirit of LAU, which is the ability of our faculty, students and alumni to devote themselves to serving others so that others may have a better chance in life."
According to Captan Ghandour (BA '96, MA '00), the enthusiasm of alumni to initiate chapter activities has been incredible. "We started with a list of eight alumni and have been able to engage with some 60 more. With time I expect the number to at least double. We have made a strong statement from the start that aside from enhancing inter-community relationships, the chapter will support the community in liaising with LAU."
During the trip, the LAU delegation met with University of Ghana Vice-Chancellor Professor Ernest Aryeetey to explore the possibilities of linkages between the two universities. LAU Director of Admissions, Beirut, Nada Hajj hosted an open day so that students and school principals could learn more about studying at LAU. "The University aspires to attract students from Africa, especially the children of our alumni," said Jabbra. "Trips like this teach us important lessons in how to bring people together and to use differences for positive gains."
The LAU delegation also met with officials from the scholarship organization Finatrade Foundation, as well as Lebanon's Consul in Accra, Ahmad Soueidan. Prominent Lebanese businessman Fida' Halawi and his wife Doha hosted a reception for the Ghana chapter and members of the Lebanese expatriate community.
With over 33,000 alumni, LAU has active chapters in most corners of the world, including major cities like New York, Montreal, London, Geneva and Athens. With so many Lebanese living and working in Africa, further alumni chapters are being planned across the continent, said Jabbra.