Homecoming 2023: Full Program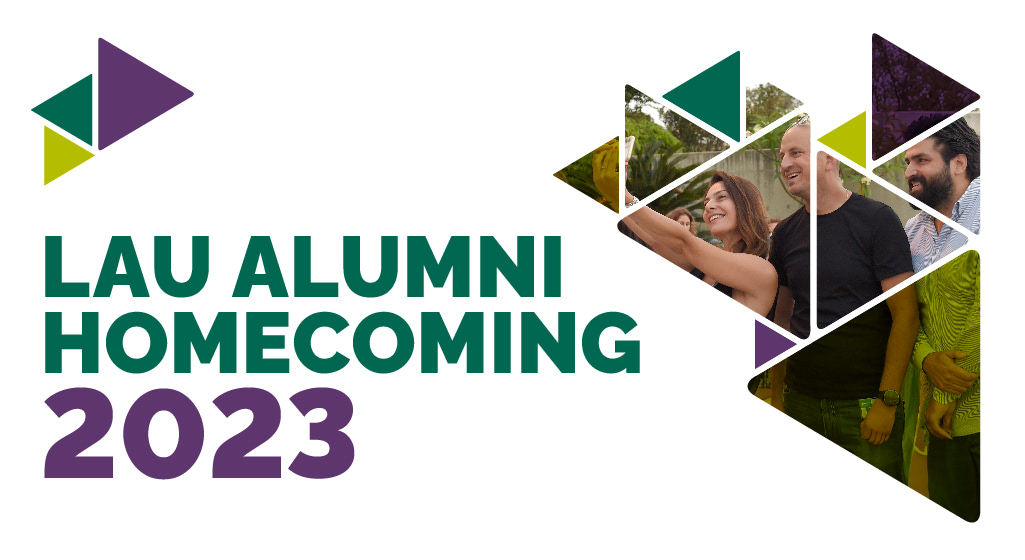 ▸ Annual Alumni Dinner
July 11 at 8:30 p.m.
La Scène by Michel Fadel
Book your tickets before July 5, places are limited!
Join us for a memorable evening at one of Beirut's liveliest indoor clubs.
Price: $80 per person including a selection of salads, finger foods and open premium bar.

▸ All-Class Reunions
Byblos: July 13
Beirut: July 14
RSVP by July 10
All alumni and all classes are invited to the reunions on both campuses.
The classes of 2018, 2013, 2008, 2003, 1998, 1993, 1988, 1983, 1978 and 1973 will be presented this year with jubilee pins for their 5th, 10th, 15th, 20th, 25th, 30th, 35th, 40th, 45th and 50th graduation anniversaries, on July 13 at the Byblos campus for Louaize, Amchit and Byblos graduates and on July 14 at the Beirut campus for Beirut and Sidon graduates.
7:00 p.m.: Assembly
7:30 p.m.: Words of welcome
7:45 p.m.: Distribution of jubilee pins
8:00 p.m.: Reception
▸ Alumni Trip
July 16
Darb el Mseilha - Nahr el Joz
RSVP by July 7
7:30 a.m.: Gathering at LAU, Beirut, Lower Gate.
8:00 a.m.: Departure from Beirut; breakfast will be distributed during a gathering or in the bus.
10:00 a.m.: Arrival at Kaftoun, the start of the hike to Nahr el Joz. To see: old mills, old bridges, river, scenery, sed el Mseilha, etc.
2:00 p.m.: End of hike at Mseilha.
Lunch
Transfer back to Beirut
19:00: Estimated arrival at LAU
Price per person:
- Adults: $35
- Children ages 10 and under: $26
Alumni Relations Office
Tel: +9611 786 456 ext. 1136 or 1341
E-mail: alumni.relations@lau.edu.lb
https://alumni.lau.edu.lb
https://www.facebook.com/LAUAlumniOfficialPage